When was the SANIWORKS® sanitation system born?
SANIWORKS was born and designed during the lockdown to respond to the health emergency . After the government decree of May that allowed it to return to the company, Three-es immediately set to work to create SANIWORKS and give all working realities a concrete possibility, a machine, capable of sanitizing their constant and effective form environments.
Three es, a company founded in 2000, developer of innovative technologies for the global market with international patents in various sectors, has deployed the experience of its team and also its cutting-edge technology. In order to break the chain of contact infection, Three es makes Saniworks available to its customers
Moreover, people running around to meet tight deadlines and goals hardly ever have time for good hygiene practices, and they have less time to supervise the person in charge of cleaning the office.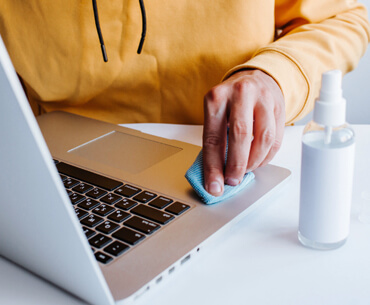 How many times have your desk and its items been cleaned and sanitized?
How about the stapler, erasers, and pins that are in your drawer? Or the telephone, paper tray, paper cutter, bulletin board, or ruler?
We can go on naming items that you can find in any office, but we bet that you have already noticed some items that have never.
How does the SANIWORKS sanitation system work?
SANIWORKS was born from Three-es's experience in the field of high pressure and innovation. The company has decided to create a machine that would allow all working realities to be able to return to the workplace in total safety. The model created to sanitize environments and goods, thanks to the use of three combined technologies – ozone, UV-C rays and disinfectant mist – in a single machine, allows sanitation , unlike other methods, continuous and efficient: working with the three different actions for h.24 it eliminates any possible reproduction of viruses, bacteria and other pathogenic elements. With these criteria Three-es has also created a SANIWORKS model to sanitize ducted air conditioning and heating systems. Finally SANIWORKS has developed a steam technology for cleaning large vehicles, equipment and machinery. The models are many, designed to satisfy every need .